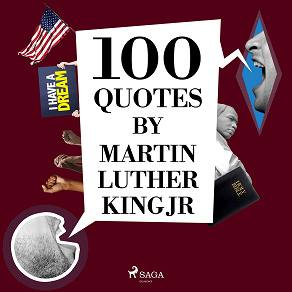 100 Quotes by Martin Luther King Jr
"I have a dream that my four little children will one day live in a nation where they will not be judged by the colour of their skin, but by the content of their character."

A superb orator, Martin Luther King Jr. spearheaded a peaceful march on Washington D.C., where he delivered his famous speech, "l Have a Dream", to 250,000 people.

The historic speech is one of many successful attempts at voicing his frustration towards oppression and discrimination without resorting to violence thus proving his skills as a public speaker.

This compilation contains 100 of Martin Luther King Jr's most celebrated quotes and is ideal for those who need an extra bit of motivation throughout their day.

Martin Luther King, Jr., (1929-1968) was an American Baptist minister, activist, and humanitarian, but is best known for his leading role in the African-American civil rights movement.

Dr King was awarded five honorary degrees, named Man of the Year by Time magazine in 1963, and became the youngest man to ever receive the Nobel Peace Prize at only thirty-five years of age. He donated his prize money to the Civil Rights Movement.


Listen to sample
---