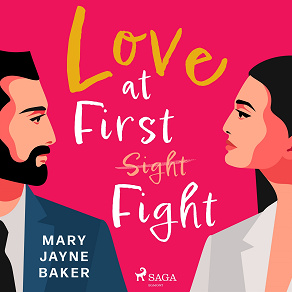 Love at First Fight
Inspired by 'Much Ado About Nothing', this is a hilarious and uplifting romantic comedy perfect for fans of '10 Things I Hate About You' and 'The Hating Game'.

As old enemies reunite, sparks fly – in ways Bridie could never have seen coming...

Bridie Morgan is giving love one last chance – she's going on twenty dates in twenty days. If this 'love' thing really is a numbers game, then surely she'll find The One. And if not? Well, at least the memory will be enough to put her off for life.

But being love's biggest sceptic is a challenge in the face of best friend Hattie's upcoming nuptials. And as maid of honour, she really has to give it a chance.

Then Bridie's lifelong nemesis Ben Kemp returns home to join the wedding party. Ben, who triggered the sorry state of affairs that has been Bridie's love life since high school. Ben, the best man to her maid of honour.


Readers love 'Love at First Fight'!

'A fantastic five-star read. This is funny, and sweet... I adore this author and can't wait to see what they will come up with next' -NetGalley Review,

'Mary Jayne Baker take a bow! This is definitely going to be high on the list of favourites for this year! This is a book that has made me laugh out, cry a whole lot and fall in love with the characters that have filled the pages... This is without a doubt a book worthy of all the stars'

All Hail Mary Jayne Baker – queen of romance and one of the few authors that can almost read my mind and create the perfect man' -Little Miss Book Lover 87.




Mary Jayne Baker is a romance author from Yorkshire, UK. After graduating from Durham University with a degree in English Literature, she dallied with living in a number of cities, but eventually came back with her own romantic hero in tow to her beloved Dales, where she first started telling stories about heroines with flaws and the men who love them.
Listen to sample
---