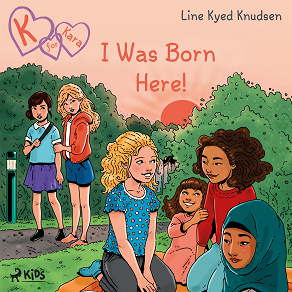 K for Kara 23 - I Was Born Here!
This is a true tale about a great friendship between two very different people. But are they really that different in the end?

When Nadia starts in Kara's class, she's a little shy but Kara happily shows her around. That makes Nadia feel right at home. When Kara meets Nadia in the local park, Nadia is surrounded by her entire family. They all speak in a different language and some of them are wearing scarfs around their head. Suddenly, Kara is the one who's feeling shy and almost doesn't want to go and talk to Nadia. Fortunately, Nadia invites Kara over for dinner, and Kara discovers that even though some of the people look different, they're just like her.

K for Kara - I was born here! is about friendship, prejudice and positive surprises. It deals with the irrational fear of the unknown and encourages you to engage in new experiences.



Line Kyed Knudsen is a Danish author, born in 1971. With around 50 children and teenage books, including her debut series Pigerne fra Nordsletten, she brings her young readers into different universes ranging anywhere from magic castles to 21st century schools. Some of her main themes includes friendships, young love and intrigue, and her writing is relevant to a large number of children and teenagers struggling with such matters. For her works of fiction, she's been nominated for several awards and in 2017 won the infamous Orlaprisen for 'best character' in her book Er Vi Venner?.
Listen to sample
---