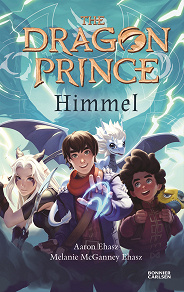 The Dragon Prince: Himmel
Andra delen i den episka Netflix-serien The Dragon Prince – en fantasyvärld som älskas lika mycket av barn som av vuxna!
Drakägget som prinsarna Ezran och Callum försvarade tillsammans med deras tidigare dödsfiende alven Rayla, har kläckts. Nu måste de föra draken till drakdrottningen – endast då kan freden mellan prinsarnas rike och drakarnas Xadia bevaras. Men det blir svårare än de trott och när människobarnen Claudia och Soren dyker upp vet de inte vem de kan lita på; människorna som de känner väl eller alven Rayla som de nyss träffat. Samtidigt planerar hovmagiker Lord Viren att elda på konflikten mellan människornas kungariken och Xadia.
Vänskap kommer att prövas, planer kommer att sättas i verket och svåra beslut måste fattas!
Böckerna bygger på tv-serien The Dragon Prince som har belönats med en Emmy!
---