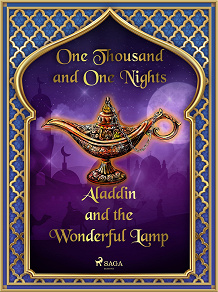 Aladdin and the Wonderful Lamp
Everyone knows the story of Aladdin and the genie of the lamp, thanks to the Disney film adaptations starring Robin Williams and Gilbert Gottfried in the 1992 animated feature, and Will Smith and Naomi Scott in Guy Ritchie's 2019 live action version. Or do they? Though similar in some respects, the original Aladdin has no pet monkey or magic carpet, but a living mother, and not one but two genies at his command! Prepare to be surprised by a whole new Aladdin, in this, the twenty-eighth of the 34 tales in the classic 'Arabian Nights' collection, translated by Andrew Lang.

A treasure-trove of timeless stories, the One Thousand and One Nights or Arabian Nights have been loved, imitated, and added to over many centuries. Similar to the fairy tales collected by the Brothers Grimm, the Arabian Nights are drawn from the folklore of India, Iran and the Middle East, and were collected in Arabic versions throughout the medieval period; others were added as recently as the eighteenth century. These stories of the exotic East have been popularised for new generations by film adaptations such as Disney's Aladdin, starring Robin Williams and Gilbert Gottfried in 1992, and Will Smith in 2019, and Dreamworks' Sinbad, starring Brad Pitt and Michelle Pfeiffer. They continue to inspire writers as varied as Salman Rushdie and Neil Gaiman, while numerous Bollywood and manga versions attest to their popularity around the world. These stories of magic, adventure and romance have shaped readers' imaginations for generations, and are sure to be retold for years to come.

This selection was translated by Andrew Lang from the French versions by Antoine Galland, who was the first to include the stories of Aladdin and Ali Baba. Born in Scotland in 1844, Lang was a scholar of ancient Greek, a journalist, historian, novelist and poet, and the author of 25 popular collections of fairy tales; his edition of the Arabian Nights' Entertainment was published in 1898. He became a Fellow of the British Academy in 1906, and died in 1912.
---