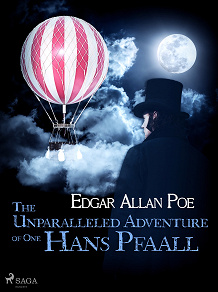 The Unparalleled Adventure of One Hans Pfaall
When Hans Pfaal's creditors begin to circle, there is only one thing he can do. Construct a magnificent, science defying balloon and escape to the moon! Hans records the details of this voyage with vivid otherworldly description, and impressive scientific knowhow. This fascinating, hallucinatory adventure, is regarded as one of the first examples of the modern science fiction genre, inspiring works by later writers such as Jules Verne and H.G Wells.


Edgar Allan Poe (1809-1849) is a titan of literature. Most famous for his poetry, short stories, and tales of the supernatural and macabre, his body of work continues to resonate to this day. Poe is widely regarded as the inventor of the detective genre and a contributor to the emergence of science fiction, dark romanticism, and weird fiction. His most famous works include "The Raven" (1945), 'The Black Cat" (1943), and "The Gold-Bug" (1843).
---