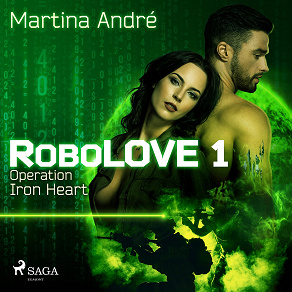 Isbn:
978-87-2686-324-6
Publisher:
Saga Egmont
Category:
Fantasy & Sci-Fi
Romance
Accessible since:
October 2021
Narrator:
Heather Henriques
Length: 6 hours 57 minutes
---
Robolove 1 - Operation Iron Heart
Chicago 2056. Marci, a young housemaid, is in despair. Her husband has disappeared without a trace and she doesn't know how she and her two boys can get through in the slums.

Meanwhile Jack, a two-meter-tall combat robot, has had enough of the war and deserted to the rebels.

At first glance, he and Marci have little in common. But both are linked by an unscrupulous enemy with a deadly secret. To save themselves and humanity from ruin, they must work side by side on a dangerous mission.

Tension, action, great emotions and a good dose of humor 'Operation Iron Heart' is the first part of the new RoboLOVE trilogy. Great for fans of Ruby Dixon and Tayla Branton.

The German bestselling author Martina André was born in Bonn in 1961. She has published many successful works and is particularly known for her Templar novels. Martina André now lives with her family near Koblenz and in Edinburgh in Scotland, which has become her second home.
Listen to sample
---