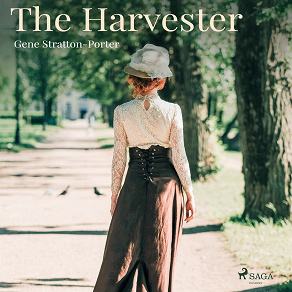 Isbn:
978-87-2647-263-9
Publisher:
Saga Egmont
Category:
Novels
Historic facsimile
Romance
Accessible since:
October 2021
Narrator:
Cindy Steib
Length: 14 hours 46 minutes
---
The Harvester
"The Harvester" is a gentle love story, made up of a fondness for nature, high moral ideals and an engaging plot. It is the story of young David Langston, who lives in the countryside with his dog, growing medicinal herbs he then sells in the city. One evening, he has a vision of his Dream Girl and goes searching for her, and in so doing changes the course of his life forever.

Gene Stratton-Porter (1863-1924) was an American writer, wildlife photographer, naturalist, and one of the first women to form a movie studio and production company. She wrote for several national magazines in the United States, and many of her novels went on to become bestsellers and have been widely translated. She used her position and income to support the conservation of Limberlost Swamp and other wetland areas in the state of Indiana. She is remembered for novels such as "Freckles," "Laddie," and "Michael O'Halloran." Her novel "A Girl of the Limberlost" was adapted four times as a film, most recently in 1990 in a made-for-TV version. Her "The Keeper of the Bees" has also been adapted four times to the silver screen.
Listen to sample
---